Previous Showcase
Next Showcase
Back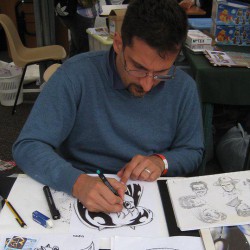 Emilio De Rosa Illustrator
Italy > Campania > Napoli
---
Description
Vivo e lavoro a Napoli da tutta la vita.
Ho sempre avuto un interesse per il disegno, fin da quando, da piccolo, copiavo e ricopiavo i personaggi resi celebri dalle produzioni televisive nipponiche diffusesi in Italia tra la fine degli anni '70 e i primi anni '80. L'approccio professionale al disegno e al Fumetto, invece, è venuto solo molto più tardi, avendo maturata però, nel frattempo, una lunga esperienza da autodidatta. Così nel 1994 mi iscrissi a un corso annuale di disegno e poi, successivamente, alla Scuola italiana di Comix di Napoli che ho frequentato per tre anni. Tutto questo dopo aver terminato gli studi classici e parallelamente agli studi universitari che si sono poi conclusi con la Laurea in "Conservazione dei Beni Culturali". Durante tutti questi anni ho svolto una intensa attività nel campo del disegno: ideato storie e personaggi, pubblicato "fanzines" e fumetti, partecipato con stands a mostre sparse in tutta la Campania (tra cui più volte al "Napoli Comicon"), vinto un concorso per fumettisti, nell'ambito della manifestazione "Cartoons on the Bay" (nel 1997), partecipato all'importante progetto "Eduardo a Fumetti", dedicato all'opera teatrale del grande De Filippo, insegnato disegno a nuovi aspiranti artisti. Nel 2011 ho partecipato alla manifestazione: "Dita e Matita. Concerto per pianoforte e disegno dal vivo" (vedi link su Youtube http://youtu.be/ZHhQSQyUCGI), concerto tenutosi presso l'Auditorium del Museo di Capodimonte a Napoli, organizzato dal Maggio dei Monumenti e dal Ministero per i Beni e le Attività Culturali. Manifestazione che si è ripetuta l'anno seguente ma, questa volta, alla Villa Pignatelli, sempre in Napoli, e che ha avuto per tema un omaggio ai Beatles dal titolo: "HERE COMES THE SUN" (link Youtube http://youtu.be/7tjbIhmQxzU).
Attualmente lavoro come grafico per case editrici di testi scolastici per l'infanzia e libri di poesie. Realizzo marchi e loghi per la pubblicità. Pubblico una storia a fumetti dal titolo "Ali di Farfalla" (link Youtube con il trailer http://youtu.be/YbNrlf2aptY) per conto della Casa Editrice milanese EF Edizioni.
Portfolio Skills
Posters

CoronaVirus

Cartoon

Illustration

Illustrations for children

Illustrations for children

Trademarks and Logos

Photographic portraits
CoronaVirus
Posters
Cartoon
Illustration
Illustrations for children
Illustrations for children
Trademarks and Logos
Photographic portraits
Address :
Italy > Campania > Napoli